Success Stories
My name is Barbara Bali. I was in the apprenticeship program for two years. This opportunity changed my life for the best. I was very discouraged about working because I had just been in rehab and had an extensive criminal record. Center for Living and Learning gave me a chance to give 100% as an employee and learn meaningful job skills such as computer and customer service skills. Center for Living and Learning also helped fix my teeth, which gave me a lot more confidence to face the world. They also taught me the importance of financial responsibility. The compassion and understanding I received from Alex and Rhonda allowed me to correct my behavior and learn from my mistakes that would have cost me my job anywhere else. I am so grateful for that. This has been a great experience for me in every way. I have learned something from everyone here. All areas of my life have improved because of the people here. I will always be thankful for this opportunity.
UPDATE: 11/29/10
Barbara transitioned to employment at a treatment center and is currently the in-house manager of a women's sober living home.
Terry
I started at The Center for Living and Learning in 2007. They were willing to work with my legal problems as far as being on house arrest, and having to have a set schedule or leave when asked by my probation officer. When I started I had nothing.
My first year of being employed I did all the things your not supposed to do at the work place such as calling in with problems, being late, personal calls, bringing personal problems to the work place, falling asleep etc. The Center for Living and Learning saw something in me, when I didn't see it in myself, and kept me around.
Nine months later I decided to follow in the steps of my supervisor Rhonda and confide in her. I turned everything around in my life. Since then The Center for Living and Learning paid a tutor to work and prep me for my GED. I was given a ceremony for which I was able to share with my family and friends. I cleared all my legal matters, and they are assisting me to clear up my background as well. I got my Driver License and they allowed me to use the company vehicle for errands.
I've been taught how to use all sorts of computer programs such as: Word, Excel, PowerPoint, Access, Frontpage and QuickBooks. I gained clerical, customer service, and management skills as well. I'm now Administrative Assistant and I'm in the process of being trained as a Mentor
My role models are the two women I work with, who are molding me into the women that I am. I now have my apartment, car, and no legal matters. I gained respect for myself, leadership qualities, and the motivation to accomplish to so much more.
I'm very grateful to the Center for Living and Learning and all they've done for me.
Keith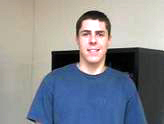 My name is Keith and I have been employed in the apprenticeship program for one year. I am grateful for being given the opportunity to have this job and I don't know where I would be without this program.
After battling drug addiction for a major part of my life, I decided to turn my life around. I was unhappy with the way I was living and I desperately wanted to change. I found out about this program from the treatment center I completed and decided to give it a try. In the last year I have learned valuable customer service and other office related skills. They have also provided computer training and have prepared me for whatever job I choose in the future. Most importantly because of this program, I have once again become a productive member of society. I plan to complete the eighteen-month apprenticeship program and move onto college, something I wouldn't have been able to do on my own. I have my life back and I will be forever grateful for what this program has done for me.
Kyle
My name is Kyle Haug I am a graduate of Center for Living and Learning's apprenticeship program and was hired on as the computer course room supervisor. The past 3 years have been a tremendous growing opportunity for me and I have also gone back to college.
Before coming to CFLL I was in my third treatment facility. My parents dropped me off from San Diego and pretty much wished me luck with life. I felt alone and hopeless and I really didn't know how my life would end up. Over the past 3 years off drugs I have really tried to work on myself and come to terms with who I am as a person. I am truly grateful for the opportunities I have gotten at CFLL. They gave me strength and encouragement to just keep trying and be my best. I learned new professional bonds with co workers and gained new friends that were there and needed nothing in return.
In conclusion, I walked through the doors of CFLL over 3 years ago a hopeless drug addict with no job skills. I went on from there to become the computer course room supervisor and learned all I could. I am starting my new job in Jan 2009 and will be working in an office for a large treatment facility. I am a little scared about the transition but I also have hope that I will be a success. Thank you again Center for Living and Learning.

UPDATE: 12/3/10
Kyle continues to work as an Administrative Assistant for Tarzana Treatment Center, works with a pet adoption agency a couple of days a week and is studying Nursing. Kyle continues to maintain a relationship with Center for Living and Learning and assists with resources for our clients.
Naomi
My name is Naomi Medina and I work at Center for Living and Learning. Today I am the administrative assistant; however, I did not start out this way. Prior to working here I could not fax or e-mail, because I did not know how. Today I work with Excel to do most of my work and I also work with QuickBooks Accounting software. It is a powerful tool I have learned to use since working here at CFLL. I have also learned how to do payroll for the company. I am very proud to have obtained such useful skills during my apprenticeship.
Before working here I had just finished a six month drug treatment program. Basically, I was hopeless as to what the future held for me. I had nothing but a bag full of clothes and a small amount of hope to stay clean and sober. I was living in a home called sober living, with no aim or direction until I started working here. I began to have goals and a sense of achievement and self-esteem.
Today I am proud to have over two years clean and sober. I have moved out of sober living and into my own apartment, I got my driver's license and a car since working here as well. Also, now I am a part time student at Pierce College. I am working on an Addiction Studies degree. I must say that this job has been one of the best opportunities of my life. I cannot imagine where I would be, if not for this program.
UPDATE: 11/29/10
Naomi transitioned to a position at Cri-Help, Inc. before becoming an office manager at I-Adarp, another treatment facility. Today Naomi is the office manager of the Valley Women's Center. Naomi also remains active in mentoring women recovering from substance abuse.
Richard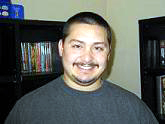 My name is Richard. Before I started working here, I was working with my father in construction. When I first got released from prison, I tried looking for jobs. It was real hard for me; nobody would hire me because of my background and still being on parole. I was tired of working in construction. When I applied for the apprenticeship program, I got a chance to prove what I'm capable of doing. I have worked here for over a year, and built the self-esteem and will to complete my parole, get my license and buy my first vehicle.
Working in this program, I have been learning how to use a computer. I have learned management skills and also to control my anger. I have been given the chance to go to GED classes on the weekend. I have built the confidence to look for other jobs without worrying about my old background.
Rhonda
My name is Rhonda Caughey and I have struggled with drug addiction for many years. My life had become totally unmanageable. I had lost contact with my family, and could no longer hold a job. My life consisted of drug use on a daily basis. I was totally miserable feeling like my life would never amount to anything; there was no hope for a bright future for me. Then I started getting arrested to top off the total mess I already was. I then started going to jail on a regular basis I really thought things would never change for me.
In June 2001 I was sentenced to 16 months in Prison on which I served one year. While I was in Prison they put me in a drug program. One of the benefits of the program in prison was going into a residential treatment center when you paroled. On April 9, 2003 I paroled to a treatment center in North Hollywood. That was the beginning of my life totally changing in ways I thought mine never could. As time went by in that treatment center I started feeling better about myself due to going to groups meetings etc. After being in that treatment center for Three months it was time to look for work.
Although I was feeling so much better about myself, better then I'd ever felt in my whole life looking for work was a very scary thing. I went out every day looking for work with no luck. This was becoming very discouraging for me, I felt like I would never get a job. There are not a lot of employers out there who want to give drug addicts or parolees a chance. After quite some time of looking for work my case worker at that treatment center I went through told me about Abilities Car Donation Foundation. I started the Apprenticeship Program August 8, 2003. I totally believe in this Apprenticeship Program, and what it can do for people who are trying to change their lives. Since I've been here I've learned so much. I've been given the tools and skills to leave here and get a decent job.
Currently this is what's going on in my life. I now have almost three years clean and sober. I manage a sober living house with twelve women. I've been discharged off parole, my family is back in my life, and I have a driver's license, a car with insurance too. Some of these might not sound like such a big deal but to someone who was wasting their life away on drugs for years these things are huge. Also I have confidence and feel so much better about myself. I'm truly grateful to that treatment center, and for this Apprenticeship program. My life has totally turned around, and is better then I ever could have imagined. Oh yeah this Apprenticeship is currently helping me get my GED. I really can't say enough about this program and what it's done for me.
UPDATE: 10/21/10
Rhonda received her GED certificate has remained with the organization as Executive Assistant and Program Coordinator. Today Rhonda has been the backbone of Center for Living and Learning's Apprenticeship Program for over 5 years and employed with the center for over 7 years. Rhonda continues to manage and oversee the programs of Center for Living and Learning and mentor all of the apprentices who come through the door.
Ron
In February of 2008, as I was about to leave residential drug treatment without a job or a place to live, I was accepted into the Apprenticeship Program at the Center for Living and Learning. I have a long history of drug addiction, homelessness, unemployment and incarceration. I was given the opportunity to learn new skills and how to be a good employee. I began in the Donations Department, was promoted to Administrative Assistant, and when I completed the Apprenticeship Program I was given the opportunity to become a job search mentor, where I am privileged to be able to help others like me to find employment. There is no greater satisfaction for me than when one of our clients comes back and tells me that because of what I taught them, they were able to gain employment.
Since beginning here I have straightened out all of my legal issues, completed probation, and obtained my drivers license! I am in my third semester in Los Angeles City College's Human Services Program with an emphasis on Drug and Alcohol Counseling. I made the Dean's Honor Roll for the Spring 2010 semester with a GPA of 3.75.
It is amazing to me that four years ago I was basically unemployable and now I teach a course on how to find and keep a job. The Center for Living and Learning has given me a life that I never thought I would have.
We hope these stories from our clients have inspired you to get involved today. If you or someone you know has a vehicle that they no longer need or are trying to get rid of please consider donating to this charitable and reputable organization. You can be the difference in changing someone's life for the better. Join us in putting Americans back to work!
Donate Your Used Vehicle Today!